GeoSIMS Replaced with Space Manager
Effective March 31st 2021 GeoSIMS has been replaced with the InVision Space Manager App. If you had edit access to GeoSIMS you can access Space Manage from the InVision Home. If you need to view basic space data and floor plans you can use the Space Viewer from the InVision Home.
July-August 2017
PDF Floor Plan Printing
MAPS is proud to present PDF floor plan printing for entire buildings or selected floors. Users can now print PDF floor plans that show specific GeoSIMS space information such as space by category, by department, or by primary use. The pre-defined layouts provide a color coded print that is automatically rotated to fit the page perfectly and give you the best display possible.
Printing a PDF Floor Plan
1) Click on the links icon at the bottom of the info page for a selected building or floor.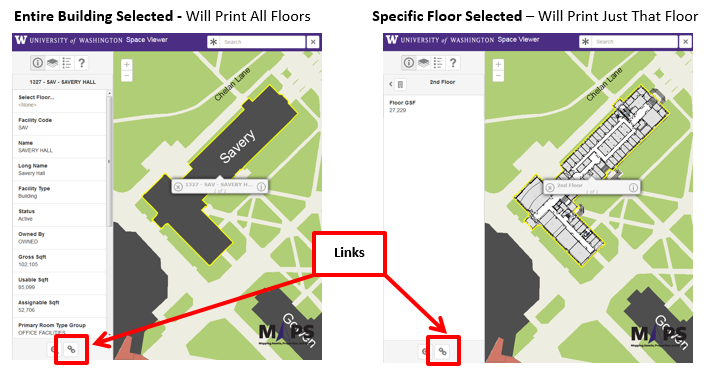 2) Select a PDF Floor Plan Print.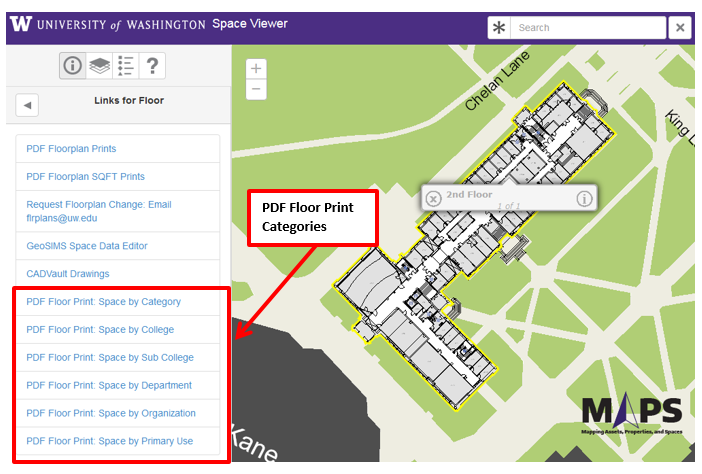 3) Give your print its own title.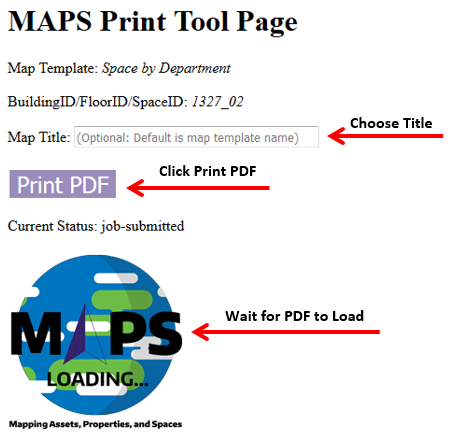 4) Save them to your computer or print them straight from the browser!
  (Works best with Chrome - May have issues with Internet Explorer)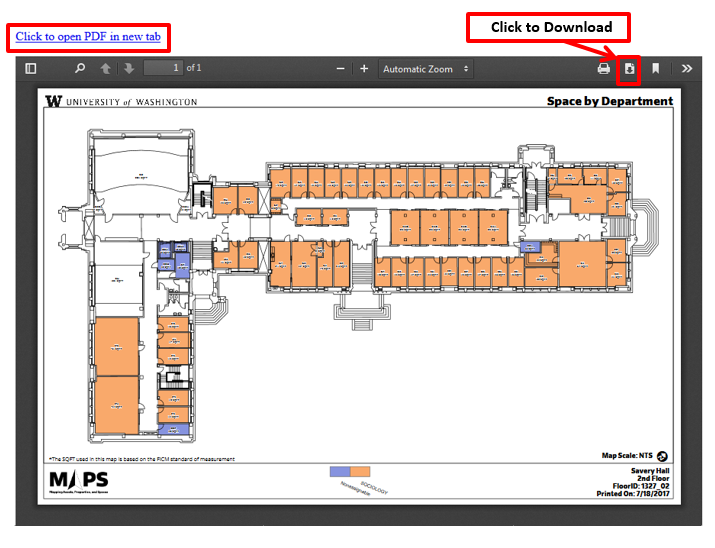 Floor Plan Prints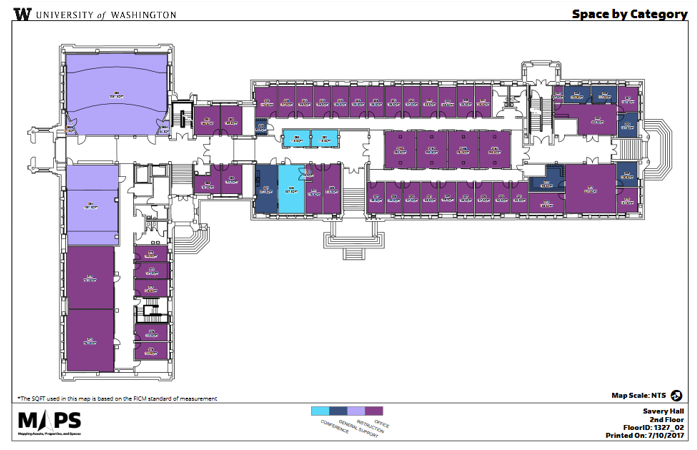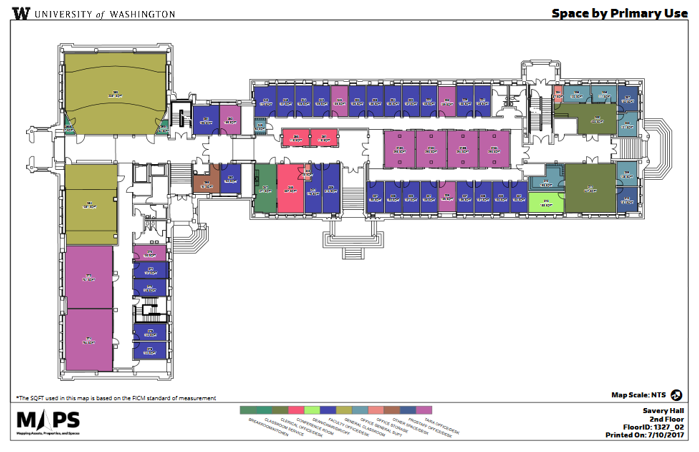 June 2017
New Construction & Renovation Updates
Have you been wondering how to get to the new Sports Medicine Clinic in Husky Stadium? Would you like to know what's in the works for the new North Campus Housing construction?
You can now use the Space Viewer App to explore parts of campus that have been recently renovated or are under onstruction.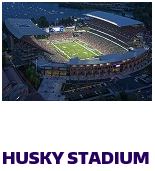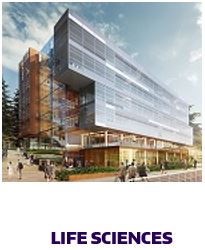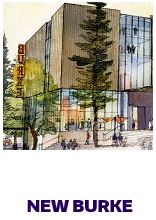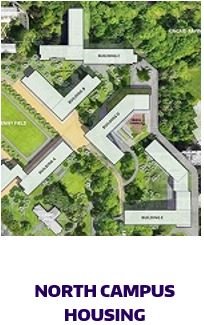 New and upcoming buildings will appear in the Space Viewer during the construction phase of projects. These new floor plans will feature project boundaries and shading you can click on to view project information and links.
MAPS is working closely with Major Projects, Small Projects, Intercollegiate Athletics, UW Real Estate, and UW Medicine to incorporate new facilities into the UW map and ensure the floorplans are up-to-date.
Keep an eye out for the new Global Innovation Exchange coming soon in June 2017!
May 2017
Capital & Space Management
Presents
"The Pursuit of Mappiness: A Cartographic Love Story"
Join us for Mappy Hour and learn how to explore UW spaces inside and out using our new interactive GIS maps.
Thursday, May 4th 12:00 – 1:00 UW Tower - 22nd Floor Ravenna Training Room
Our interactive maps not only let you travel the exteriors of campus, but they also let you dive inside buildings, floors, and rooms. They can even take you to distant lands like Friday Harbor or Big Beef Creek.
But wait...there's more!
Come learn how our maps can help you keep your assets in check.
A Picture is Worth a Thousand Words: Our maps can provide a graphical representation of your asset data by linking it with an interactive map we continuously maintain.
One Big Mappy Family: Our maps can link your asset data with asset data from other departments.
Updating Data on the Web in Real Time: Our maps reside on the web. This gives you the ability to access and update your data from any web-enabled device, whether you are sitting in your office, out in the field, or sipping a café at the UW campus in Rome. Your data and the map are linked. Updating one will instantly update the other.
Sharing is Caring: Our maps allow you to share links to buildings, floors, rooms, asset data, images, and supporting docs. They can also be used to connect to other campus resources such as GeoSIMS and FIL (Facilities Information Library).
Need a Floorplan? Our maps provide a quick easy way to view and print floorplans.
April 2017

On March 14th, more than 50 UW departments and teams gathered in the HUB Lyceum to showcase the innovative ways they are improving UW processes. The room was filled with posters displaying improvements in operations, administration, research, and curriculum/teaching.
CSM MAPS and Real Estate showcased their collaborative effort to produce more accurate and reliable floorplans, OTCS's, and space utilization records by connecting lease information with existing space data in the GIS infrastructure.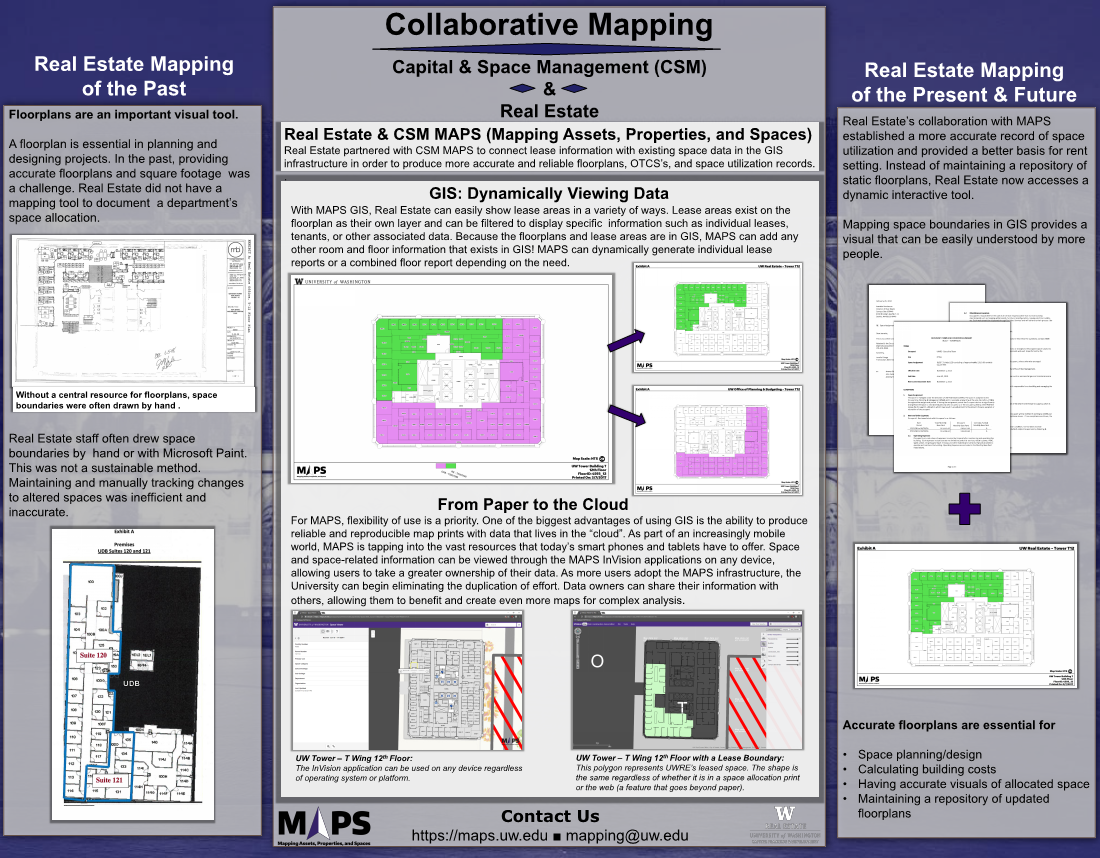 Using the Points of Interest Editor app, MAPS plotted the locations of some displays in the Lyceum.
Explore the displays by clicking on the link:
https://maps.uw.edu/gis/apps/POIEditor/index.aspx?entity=Floor,1153_01&center=-122.305436,47.654894&level=21
Some display locations have attached images of the display poster. To view the attached image, first click on the display location on the map. Then click on the attachments button

in the info window to the left of the map.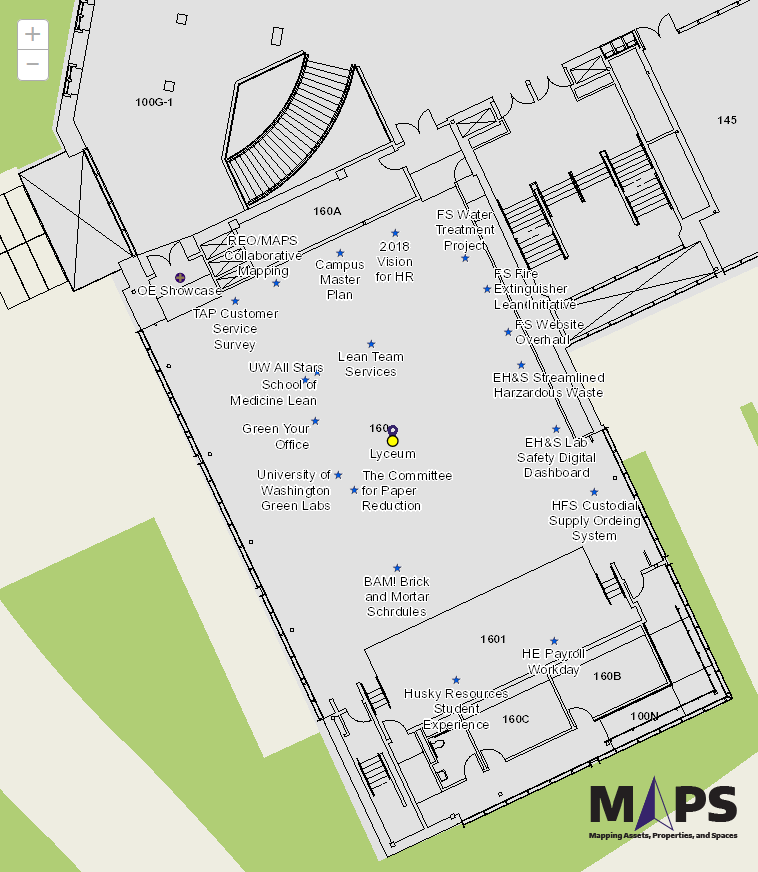 March 2017
MAPS has some new developments!
Environmental Health & Safety - Evacuation Map Editor
Evacuation Map Editor was developed for Environmental Health & Safety (EH&S) to track and manage evacuation maps, evacuation routes, emergency assembly points, and other related assets.
This initiative replaced inefficient and expensive practices that could no longer be funded.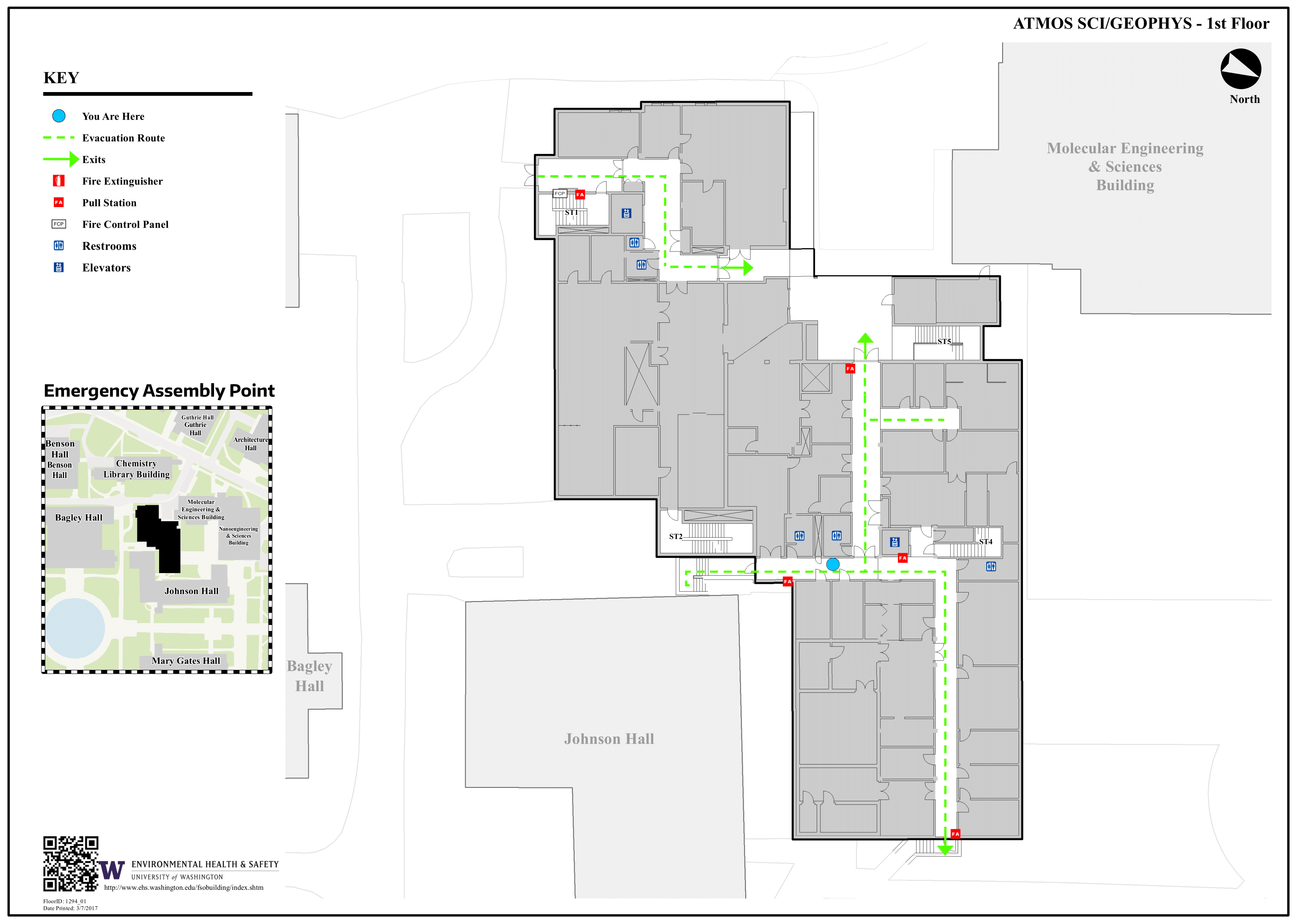 We used to hire outside graphic designers to develop the artwork and we had no ability to make edits. We are now doing this in house at a much lower cost when there is a need using UW students. This initiative aligns with TAP principles. The current project to develop evacuation route maps for campus buildings has exceeded my expectations. EH&S is data rich and we are looking for opportunities to make better use of this information. I believe there may be many opportunities to consider. It has been a very good investment.
For more information on building evacuation routes visit:
http://www.ehs.washington.edu/fsobuilding/buildevac.shtm
Treasury Office - UW Building Bond Viewer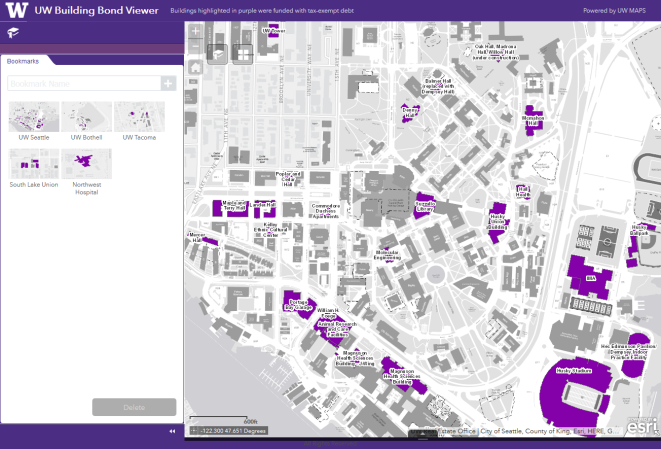 The Treasury team, with help from Capital Planning & Development and bond counsel, just went live with a new website that will help departments track private use in tax-exempt buildings… When we issue tax-exempt bonds, we have to be able to assure that we are compliant with IRS regulations regarding use. This site helps to raise awareness of the issue, shares a guide to managing private use, and has a map showing which facilities on campus are financed with tax-exempt debt.
For more information visit:
http://f2.washington.edu/treasury/pbu
For the UW Building Bond Viewer visit:
https://maps.uw.edu/bondviewer/
New Features in InVision
Points of Interest Editor - Add Comments
Add comments to a selected point of interest on the map with the new comments button.

Space Viewer - Construction Fences & Project Areas
View construction fencing and project areas. Click on a construction fence or project area to view project info. Use the link button to access project tracker and view more information about the project. These features represent floorplans and fences that are based on construction drawings and may not reflect the actual conditions. Please contact us if you have any recent information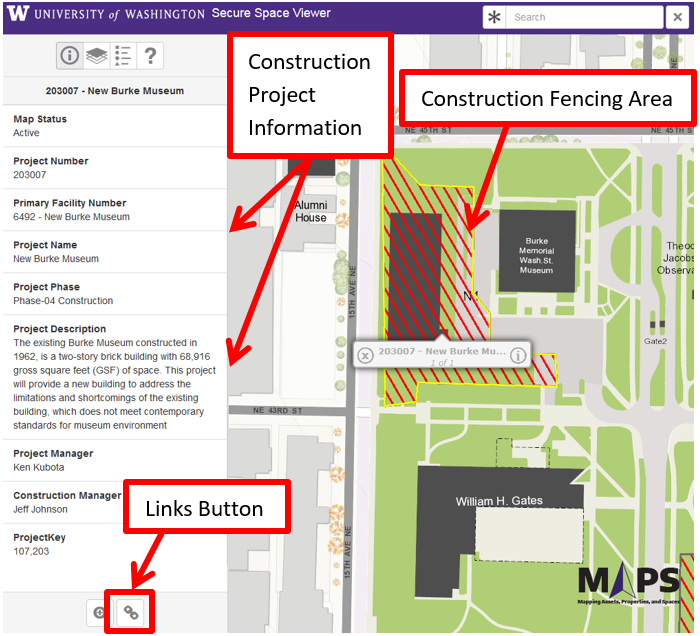 January - February 2017
MAPS Is Now Live!
MAPS GIS (Geographic Information System) is now available online!
Discover how MAPS Services can help with all your data management needs.
If you have the data... we can map it!
Our new robust GIS infrastructure can link information from database systems throughout the campus and create maps showing the space data.
For example, MAPS could create an interactive map showing the locations and contact info for members of your department. Other projects include mapping of locations and data for fire extinguishers, emergency evacuation routes, construction project boundaries, floor coverings, recycling and compost bins, or even the closest places to get coffee on the campus. MAPS GIS can be used to better understand the utilization of campus spaces and the resources required to maintain them. The possibilities are endless! You provide and maintain the data. We provide the maps and applications to manage it.
InVision Applications
Visit Maps & Apps to see how you can access building, floor, and space information using our brand new InVision applications. Explore how easy it is to add spatial locations to the map.
Some applications are open to the UW public, while others are secure and have restricted access. All applications require a login with a valid UW NetID.
Available Applications
Space Viewer
View buildings, floorplans, and information for a building, floor, or space.
Points of Interest Editor (Demo)
Add, change, and view points of interest both inside and outside buildings. Play with this demo and add your favorite points of interest to the map.
Points are open to the public to edit and will be removed periodically. This application is strictly for demonstration purposes.
Tips & Tricks
Visit Tips & Tricks to view more information about InVision's helpful features.
Features Include
Share a Link to a Location
Attach a File to a Location
View Buildings and Spaces by Categories
Access Additional Links
Print PDF Floorplans
GeoSIMS Has Moved
GeoSIMS has moved, but it has not gone far! As part of the recent reorganization within Planning and Management, GeoSIMS has joined forces with the MAPS team to form the new Capital and Space Management department within Capital Planning and Development.
Visit GeoSIMS for more information.